It is hard to feel confident about your appearance when cracks, stains, and other imperfections are the focal point of your smile.

Dr. Christopher Gillette can conceal dental flaws and transform your confidence in just two appointments with custom porcelain veneers.
What makes veneers one of the most popular cosmetic treatments at our Arvada, CO, dental practice?
Why Trust Ward Road Dental With Your Veneers?
Exceptional Dentistry is Our Passion
When it comes to your smile, you want to choose a dentist that cares about the smallest details. Dr. Gillette takes pride in his personalized treatment and will tailor your veneers to meet your every expectation. He uses the latest technology and methods to ensure maximum precision and superior results. Healthy, beautiful, confident smiles are our passion and we go above and beyond for you. Get started on your treatment with our trusted team today. You can request a consultation at our Arvada office online, or by calling: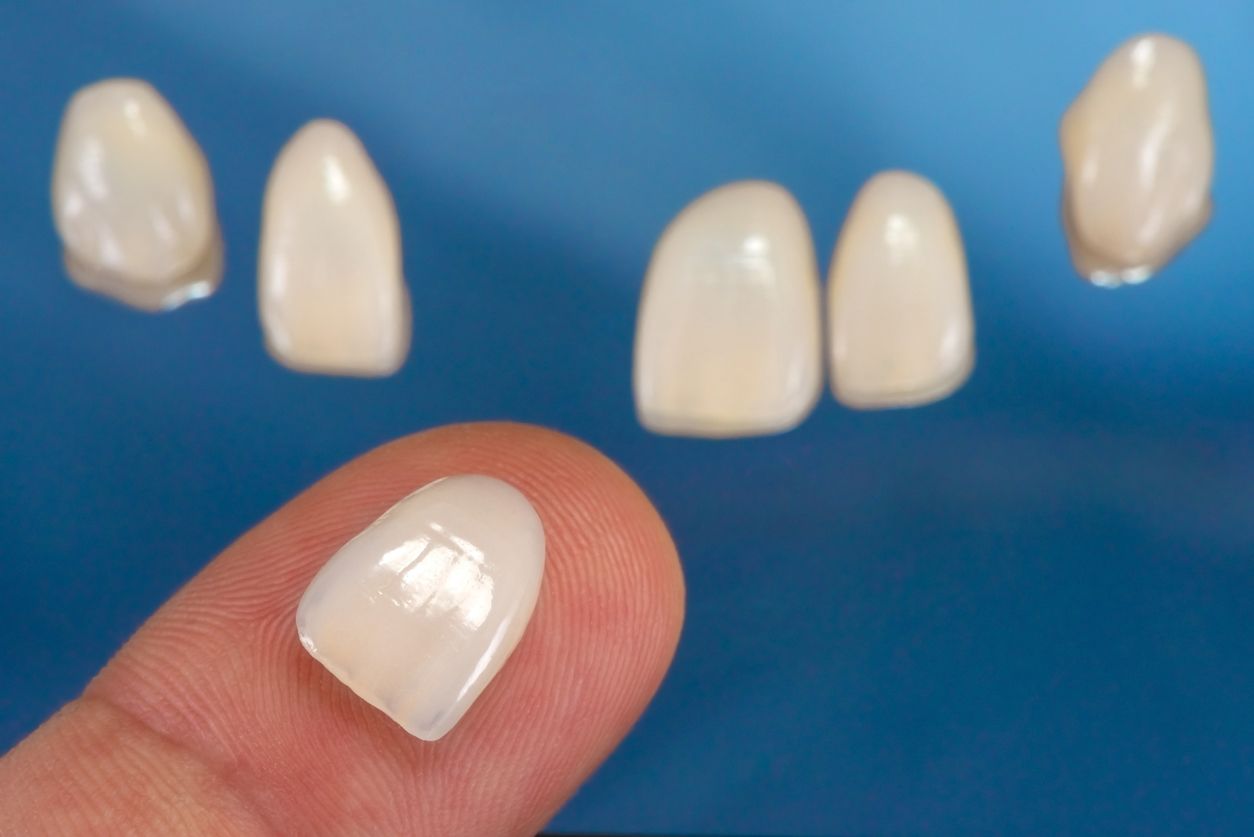 "Dr. Chris and team are awesome and we are delighted
to find such a great dental office."
5-Star Reviews
After 46 years with our previous dentist- we embarked to find a new dentist. From the first interaction with Gretchen- we felt at ease and informed of Dr. Gillette's experience and competence. The office is modern and professional. Crystal - the hygienist, greeted us, kept us informed, and did an excellent job with our cleaning. Dr. Chris was welcoming and reassuring.Nate- the office manage checked us out- and had a great sense of humor with us. Dr. Chris and team are awesome and we are delighted to find such a great dental office. Good experience—Joe and Susan
View on Google
I absolutely love this office and all the people that work here! I have been seeing them for cleanings for a few years, but today - when I chipped a huge chunk off my front tooth - I was blown away by how amazing my dentist is! I had called while they were out for lunch, but the receptionist called back right after and got me scheduled for about 3 days out. I was okay with that and went on with my day. A little while later though, Dr. Gillette found out I had chipped my front tooth and personally called me to see if I wanted to come in today. I told him I could be there in 20 mins. He got me in and taken care of and I'm able to sleep tonight without being stressed out! Love this whole team! ♥️
View on Google
The Cost of Porcelain Veneers
Our stunning porcelain veneers cost about $1,183 on average per tooth. Because it is a purely cosmetic treatment, veneers do not qualify for insurance coverage. However, our Arvada dental practice offers deferred interest and no-fee financing options such as CareCredit® to help keep your costs more manageable. You can ask our team about financing during your consultation to learn more about your options.
What to Expect During Treatment
Take a look at the steps involved with dental veneer treatment at our Arvada practice.
Our practice uses veneers crafted from porcelain or IPS e.max for stunning, natural-looking results.
Are Veneers Right For Me?

Candidacy and Considerations
Dental veneers work for most patients with good oral health and a commitment to dental hygiene. However, there are some important factors to take into consideration before you decide on getting veneers.
Bruxism
If you suffer from bruxism (teeth grinding) we may recommend an alternative treatment, like dental crowns. Veneers are incredibly thin and can get damaged if you frequently grind your teeth.
Type of Cosmetic Flaw
Dental veneers work best for minor to moderate cosmetic flaws and may not be the best solution for widespread misalignment. If crooked teeth are your primary concern you may do better with clear aligners.
Long-Term Goals
Dental veneers require making permanent alterations to your enamel and will need to be replaced every 10 years or so. If you are looking for something more temporary, you may be a better candidate for composite resin (dental bonding), which can be reversed without harming a tooth.
What If I Need More Than Just Veneers?
We Offer Custom Smile Makeovers
Sometimes one treatment is just not enough to achieve all of your smile goals. When this is the case, Dr. Gillette can combine multiple forms of dentistry into a comprehensive smile makeover. A smile makeover is a custom treatment plan that addresses all the imperfections in your teeth and gums. Depending on your needs we can combine veneers, crowns, teeth whitening, gum contouring, and more to create the smile of your dreams. Contact our Arvada practice today to find out what we can do for you.
"He's just a great person all around - highly recommend!!!"
More 5-Star Google Reviews
Dr. Gillette has created a safe and welcoming space for those of us who feel anxious about going to the dentist. He's taught me some simple tricks to minimize jaw clenching that have made a real difference. I even share these with others. He's just a great person all around - highly recommend!!!
View on Google
What an amazing change! Imagine getting the care you actually NEED instead of being told you need some expensive and time sucking proceedure. I am a health care provider, I value good trustworthy care above all else. At Ward Road Dental I was not only given great care I was "cared about." I mattered!
View on Google
While veneers are highly durable, they are still vulnerable to the same types of damage as your natural teeth and should be treated with care. To ensure your results last as long as possible, we recommend taking a few simple precautions.
Avoid chewing on ice cubes, pens, pencils, and other hard objects that can crack the porcelain.
If you are prone to grinding your teeth at night, consider wearing a mouth guard to prevent unnecessary wear.
If your veneers do become damaged, schedule an appointment at our Arvada practice as soon as possible. It may be possible to repair the damage before it gets worse.

Please sent us a message if you have any questions or concerns. A member of our team will be happy to assist you in any way possible.