Conceal Cosmetic Flaws with Porcelain Veneers
Living with an imperfect smile affected by cracks, gaps, and stains can cause you to feel self-conscious and even affect your quality of life.
Dr. Christopher Gillette designs customized porcelain veneers at his office in Arvada, CO, to provide natural-looking smile enhancement in just two appointments.
How can porcelain veneers improve my smile?
How
Are Dental Veneers Placed?
Dental veneers are ultra-thin porcelain shells that closely mimic the color, texture, and translucency of a natural tooth. They are made from medical-grade porcelain. Porcelain is non-porous, making it resistant to stains. Meanwhile, dental veneers are incredibly durable.
After examining your smile, Dr. Gillette works with a trusted ceramic lab to craft each veneer. The veneer is then permanently bonded to your tooth, transforming your smile.
Because it is a purely cosmetic treatment, veneers do not qualify for insurance coverage. However, our team at Ward Road Dental in Arvada offers deferred interest and no-fee financing options such as CareCredit® to help patients with out-of-pocket costs.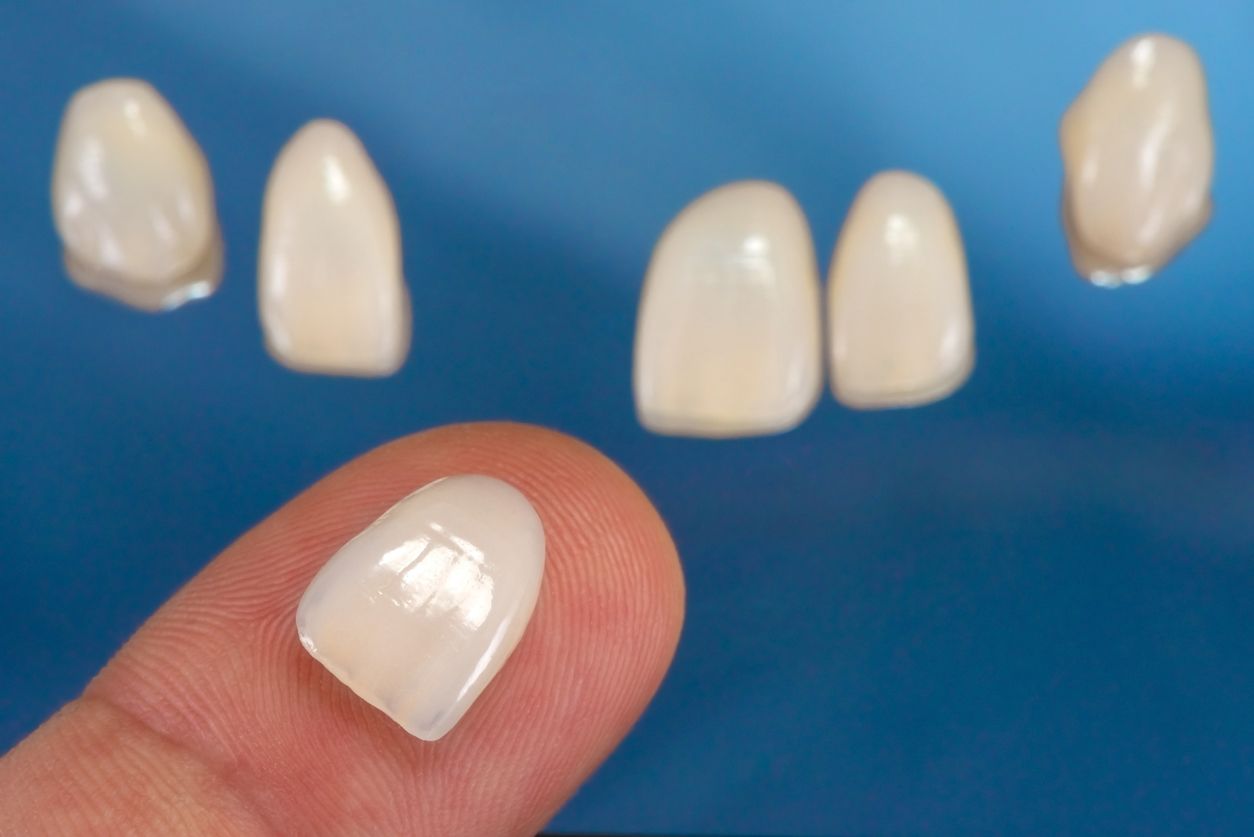 What Can Porcelain Veneers Treat?
Even a healthy smile can look unhealthy due to small imperfections. Our teeth often develop stains or chips over time even with attentive care. Porcelain veneers can effectively correct many such cosmetic flaws affecting your teeth, including:
There are some limitations, however. A small amount of enamel must be removed to make room for a veneer. Patients with thin enamel may want to consider other options, such as teeth whitening. Furthermore, patients looking into any cosmetic treatment must not have any tooth decay or gum disease. We can help resolve these issues prior to placing your veneers.
We can prepare your tooth and place a veneer in two visits. Treatment is usually broken down into several stages:
Initial consultation: During this first meeting, Dr. Gillette will assess your teeth and gums. After listening closely to your aesthetic concerns, he will design a personalized treatment plan to address your needs.
Preparing the teeth: To begin the treatment process, Dr. Gillette will buff the front surfaces of the teeth to remove tiny amounts of enamel.
Dental impressions: Once your teeth have been prepared, we can take impressions. These are sent to a lab where a skilled ceramist can use them to fabricate customized veneers.
Temporary restorations: Because it takes about one to two weeks to craft your final restorations, we provide temporary veneers to protect your teeth in the meantime.
Placement of final veneers: When we receive your restorations from the lab, we will schedule you for another office visit to place final veneers. Once they are set, the doctor will check your bite and make any necessary adjustments.
Immediately afterward, you can leave our office with a dramatically improved smile.
If you are self-conscious about chipped discolored, or misaligned teeth, porcelain veneers may be a suitable treatment option
Results and Outcome
With proper care and maintenance, veneers can last upwards of 10 years. However, while incredibly durable, they are still vulnerable to the same types of damage as your natural teeth. Therefore, it is important to avoid chewing on ice, pens, pencils, and other hard objects. If your restorations are damaged, schedule an appointment with your doctor as soon as possible to repair or replace them.