A broken or damaged tooth is not only painful, but can also cause difficulties speaking, chewing, and smiling with confidence.
A dental crown can cover a compromised tooth to restore both the function of your bite and the appearance of your smile.
Learn how Ward Road Dental in Arvada, CO, can restore your smile with a custom dental crown...
Restore Your Teeth With a Dental Crown
From Ward Road Dental
At our Arvada, CO, dentistry practice, we use the strongest dental porcelain on the market to restore compromised teeth. Dentist Christopher Gillette believes in taking the time to deliver a solution that can last a lifetime. Our focus is to provide the finest service to our patients, utilizing the latest breakthroughs in the field of cosmetic dentistry to give you a dental crown that looks and feels completely natural.
Meet Dr. Christopher Gillette
Ward Road Dental in Arvada, Colorado, is led by board-certified general dentist Christopher Gillette. After graduating from the Boston University Goldman School of Dental Medicine, Magna Cum Laude, in 2011, Dr. Gillette joined the Air Force. For the next six years, Dr. Gillette served our country by providing dental care for the men and women who served alongside him.
During his time in the Air Force, Dr. Gillette pursued further specialized training in the field of dentistry. He completed a two-year program in advanced general dentistry and received a master's degree in oral biology from the Uniformed Services University of the Health Sciences in 2015. One year later, Dr. Gillette earned board certification by the American Board of General Dentistry, making him one of fewer than one percent of dentists to achieve this honor.
Applying the core values of the Air Force (integrity first, service before self, and excellence in all we do) to every aspect of his personal and professional life, Dr. Gillette is committed to continued education and providing the best service available to patients of Ward Road Dental.
10/10, would recommend to everyone. Certainly the best dentist I've ever been to. They were able to book me a next day appointment when I chipped my front tooth and fixed it up in less than 45 minutes from walking through the door for the first time. More recently, I called about a throbbing tooth, and they had me in the office within 20 minutes, and a referral to a specialist within 2 hours. They were unbelievably accommodating, and the entire staff is wonderful. Also, there's sometimes pictures of cute animals up on the screens in the office, so that's always a plus.
View On Google
I had a great experience at Ward Road Dental and would highly recommend them for your dental needs. The staff was welcoming and the office was inviting and clean. Nathan, the office manager, was friendly and helped make the scheduling and new client paperwork quick and easy. My hygienist, Lexi, did a great job using modern equipment. Dr. Gillette was really nice and professional. He was not at all rushed during the exam and allowed plenty of time to answer my questions. Overall great experience and I'm happy to have found my new dentist!
View On Google
Ward Road Dental
Welcomes You
Our compassionate team of professionals offers patients of all ages in Arvada, Colorado, and Greater Denver a comfortable environment where they can receive outstanding cosmetic and general dentistry treatment for the entire family. If you have suffered dental trauma, are experiencing a condition such as a dental infection, or simply want to achieve an aesthetic upgrade that is only possible through the total concealment of the tooth, you can count on us to provide a dental crown that fits comfortably and looks indistinguishable from surrounding teeth.
We look forward to helping you achieve and maintain excellent oral health. To schedule an appointment at our Arvada, CO, office serving Greater Denver, contact us online or give us a call at:
(303) 420-4001
Dental Crowns
Can Restore Weakened, Missing, or Discolored Teeth
Dental crowns are a versatile solution that can be used to address a variety of needs:
Repair Damage from Trauma and Tooth Decay
Dental crowns provide support and strengthen teeth that have been significantly compromised by tooth decay or trauma. Porcelain dental crowns provide protective coverage when alternative treatments such as a filling, inlay, or onlay may not provide adequate coverage to repair a weakened tooth or teeth.
Protection after a Root Canal
Our dentist may recommend a root canal if decay has reached the inner portion of a tooth. It is a commonly held misconception that a root canal is a painful treatment; in reality, a modern root canal is virtually painless and can actually help you avoid significant pain. If you require root canal therapy, a dental crown will probably be necessary to cover the affected tooth and protect the remaining tissue.
Address Cosmetic Issues
Cosmetic imperfections such as an inconsistent shape or intrinsic stains that cannot be treated with professional tooth whitening treatments can be concealed with dental crowns. Porcelain veneers and dental bonding are also good treatment options, but they may not provide enough coverage in certain cases.
Replace Missing Teeth
Implant-supported dental crowns can replace a single missing tooth. Dental implants are the gold standard in modern dentistry when it comes to treating tooth loss. Implants offer a number of invaluable benefits. Unlike a dental bridge, an implant-supported crown requires no alteration of nearby healthy teeth. Meanwhile, dental implants are the only treatment that prevents the jawbone recession that follows tooth loss.
What a great office! Where to start? From the well-run and friendly office, to the super kind office manager Nathan, and Dr. Gillette's truly excellent chair side manner and patient education skills I am extremely impressed and happy to be a new patient here. Dr. Gillette clearly focuses on minimizing the stress and anxiety most folks feel at the dentist's office. Highly recommend.
View On Google
OMG, Dr. Gillette SAVED MY TEETH. I had a horrific fall on my face while shoveling snow at my Opa's house (I was back visiting for his funeral) and I was in a panic because I needed to get my mouth fixed before flying back home to Germany. Dr. Gillette's staff was able to find me a same-day appointment and got my knocked back front tooth back in place to heal properly. Plus, they gave a detailed care plan so I could easily transition back to care in Germany. They were so considerate of my mangled lip and really saved the day! Best dentist I've ever been to!
View On Google
You Do Not Have To Live With Tooth Pain
If you have a tooth or a number of teeth that are causing you discomfort, the team at Ward Road Dental in Arvada, CO, can provide much-needed relief with a custom dental crown. Dentist Christopher Gillette is certified by the American Board of General Dentistry, an important distinction that less than one percent of dentists hold. This means you can rest assured that you and your family will be receiving excellent treatment when you choose our dentistry practice.
We know that many patients feel apprehensive about visiting the dentist, so we do everything we can to make your visits as comfortable as possible. We use state-of-the art technology and tools such as electric hand pieces that are quieter than air-driven tools. These innovative devices also offer more accurate treatment, which minimizes discomfort during recovery. For those who fear a visit to the dentist, our dentist offers a number of sedation options.
We welcome new patients every day, and are always glad to see you. To schedule an appointment at our Arvada, CO, family dentistry practice serving Greater Denver, contact us online, or call us today at:
(303) 420-4001
Placing a Dental Crown
Takes Two Appointments at Our Arvada Office
Initial Examination
Dr. Christopher Gillette will examine your teeth in order to determine if a dental crown is the best treatment solution for you. If your affected tooth has enough healthy tissue to support a crown, Dr. Gillette will discuss your options about the porcelain used for your restoration.
Preparation of Your Tooth
The portion of your tooth damaged by trauma or decay will be removed. The tooth may be further reduced to accommodate the crown.
Impressions
Our dentistry practice uses the most sophisticated tools to take impressions of the affected tooth as well as the nearby teeth. He will attach a temporary crown before you leave the office.
Fabrication
We work with the PDA Dental Lab in Lafayette, Colorado, for biocompatible zirconia crowns. This state-of-the-art laboratory is one of the best in the business, whose unmatched craftsmanship can provide you with a restoration that will appear and perform just like a natural tooth.
Crown Placement
During your second visit, Dr. Gillette will try in your crown to ensure you are happy with the fit and appearance. Once the necessary adjustments are made, he will make sure you are comfortable with the placement and overall look before securing your permanent restoration with dental cement.
Final Result
You may experience mild sensitivity after the final placement of you restoration, but this should resolve in a few days. Your new crown will blend seamlessly into your smile, allowing you to chew, speak, and smile with confidence.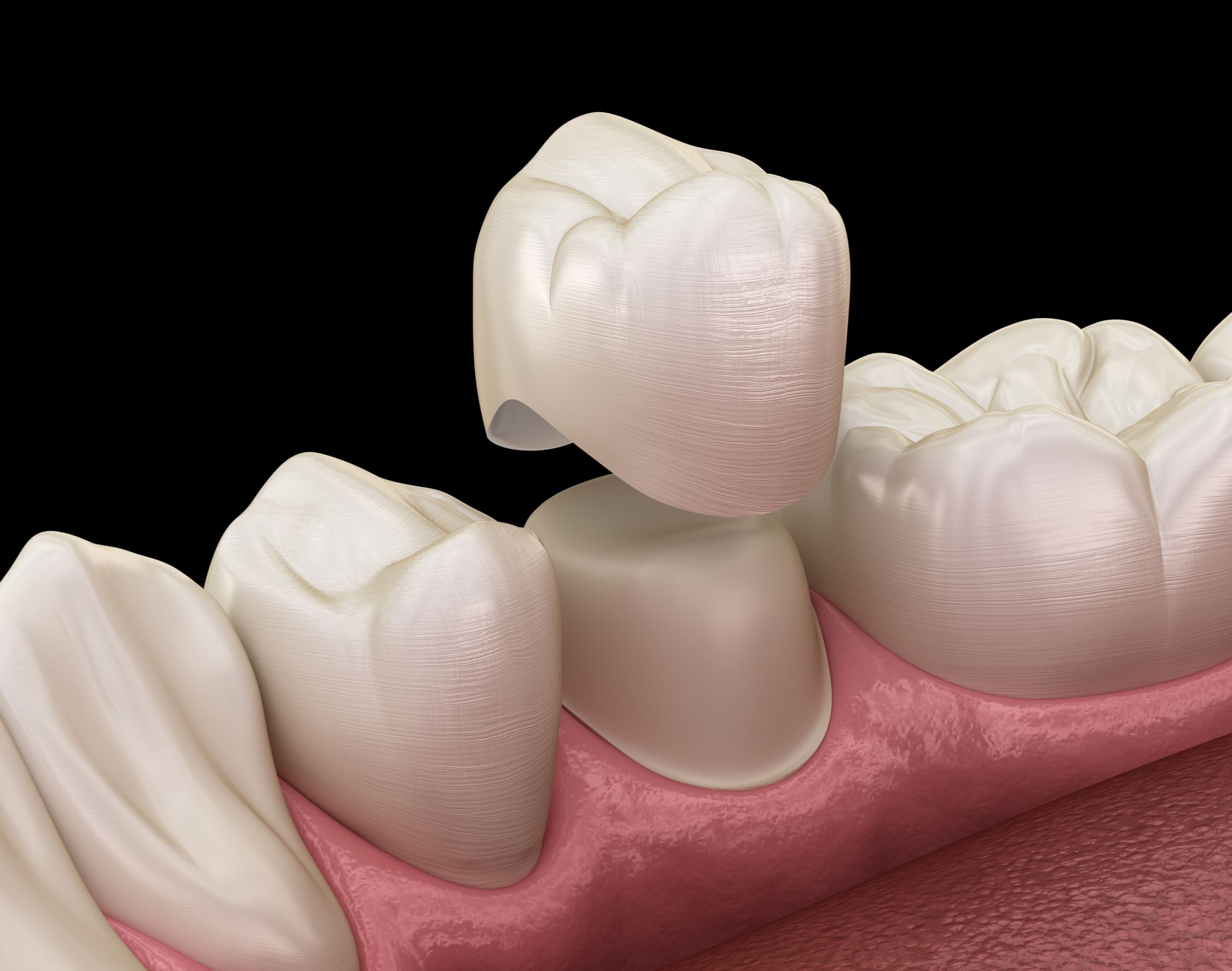 Dr. Gillette could have readily profited by putting crowns on a couple of my teeth. Instead, he advised that I wait. He explained the risk of waiting; and, shared his reasoning for why waiting had merit over proceeding, at this time. His honesty and desire to serve over profiting makes him a 5 star dentist.
View On Google
Been going there for a couple of years now and have always had a good experience. Had a bit of an emergency today and was able to get right in. Very friendly, gental and competent dentist and technicians. Highly recommend!
View On Google
A Family-Friendly Practice
At our office in Arvada, CO, our team is dedicated to providing you and your family with world-class care in order to support both your oral and overall health. We use the latest innovations in modern dentistry to allow you to spend less time in the dentist's chair and more time enjoying a healthy, beautiful smile. Our office provides every patient with a relaxing environment that includes massage chairs to make your experience as enjoyable as possible.
Dr. Gillette prides himself on his conservative approach to dentistry, and does everything he can to maintain natural tooth tissue in all the procedures he performs. From general cleanings to dental implants, veneers, and dental crowns, our dentist can help you maximize your oral health to give you the smile of your dreams. We feel it is very important to treat our patients like family. We build long-lasting relationships and offer a friendly welcome to both existing and new patients.
To schedule an appointment at our Arvada, CO, office serving Greater Denver, contact us online, or call us today at:
(303) 420-4001
The Benefits of Zirconia Crowns
We provide zirconia crowns because they not only look incredibly natural, but also provide exceptional strength. Zirconia, or zirconium dioxide, has qualities similar to both metal and ceramic, which makes it an excellent choice for use in restorations. Stainless steel actually uses this material as an alloying agent, but because zirconia is not a metal, patients can safely take advantage of this option. Meanwhile, advancements in the field of dentistry have made it possible to achieve highly realistic-looking results with zirconia.
The amount of strain that any material used in restorative dentistry can take is measured in megapascals (MPa). An adult male has an average bite force of about 175 pounds, or about 1.2 MPa. Spear® Education, a provider of continuing education to dental health professionals, reports that zirconia can withstand about 900 MPa, or about 750 times more pressure than your bite can probably produce.
Our aim is to provide each patient with the right solution for their unique needs. During a consultation, Dr. Gillette will take all the time necessary to determine whether zirconia or another material is the best way to restore your smile. We can coordinate a number of diverse solutions in order to provide the restorative treatment that will provide the greatest long-term benefits.
Aftercare Tips
to Protect Your Dental Crown
The zirconia crowns we use to restore a tooth are an incredibly strong ceramic composite, but like natural teeth, they are not indestructible. You can expect them to last at least a decade if your crown is properly maintained. That being said, there are a few things that you can do to help prolong the life of your new crown.
Be mindful of what you eat: Especially hard or sticky food may damage or dislodge your crown, so these kinds of foods are best avoided.
Proper oral hygiene is key: Treat your dental crown like your natural teeth, and you can expect it to serve you well for a long time. Brush and floss regularly to maintain a healthy smile. Avoid abrasive toothpaste to avoid scratching the porcelain, and floss from front to back rather than up and down to avoid dislodging your crown.
Regular check-ups: See a dental professional at least twice a year to maintain a healthy smile and to make sure you are not developing any oral health issues. As our patient, you can count on us to keep track of these visits and provide friendly reminders when it is time to schedule another routine exam.
Reduce wear and tear: A nightguard will help protect your crown if you grind your teeth. You should also avoid opening packages with your teeth and biting your fingernails. Based on an in-depth analysis of your oral health, we can provide you with the tips necessary to help your crown last as long as possible.
I have had a number of crowns and other dental work in the past, so I was quite nervous about having to get another crown. This was by far the best experience I have ever had getting a crown. Dr. Gillette explained every process and made sure that I was not in any discomfort. Thank you so much Dr. Gillette for making my experience very positive!
View On Google
This is my first ever review of anything... After years of changing dentists for a variety of reasons, we finally found one that we really believe in. The staff is marvelous and Dr. Gillette takes his time to explain everything. We highly recommend this practice!
View On Google