Crooked, gapped, or crowded teeth not only affect your self-confidence. They can also make brushing and flossing more difficult, increasing your risk of oral health issues.
To help patients achieve straighter smiles, boost their confidence, and improve their dental health, Dr. Christopher J. Gillette is now offering clear aligners at his practice.
Ready to straighten your smile? Contact Ward Road Dental in Arvada, CO, today to learn why so many patients choose clear aligners...
Benefits of Clear Aligners
vs. Traditional Orthodontic Treatments
Patients of all ages are leaving braces behind and straightening their smiles with aligners for several reasons. Compared to traditional orthodontics, aligners are:
Schedule a Consultation
& Find out If Clear Aligners Are Right for You
If you've always been curious about braces, Invisalign, or other orthodontic options, it may be time to schedule a consultation at Ward Road Dental. Dr. Gillette is a board-certified general dentist who can carefully review your case and determine if you are a candidate. In addition to being a board-certified dentist, Dr. Gillette is a member of various distinguished dental organizations:
- Academy of General Dentistry
- American Dental Association
- Colorado Dental Association
- Metro Denver Dental Society
- American Dental Society of Anesthesiology
Our clear aligners make orthodontic treatment more comfortable, efficient, and affordable than ever before.
What are you waiting for? Get started today by visiting our Arvada office, requesting an appointment online, or calling us:
(303) 420-4001
Incredible Dentist Office! I unfortunately have had a tremendous amount of major dental work in multiple states where I have lived and Dr. Gillette and his team are the best dentists I've ever had. They are outstanding from scheduling to billing and most importantly the dental work.
View On Google
What a great office! Where to start? From the well-run and friendly office, to the super kind office manager Nathan, and Dr. Gillette's truly excellent chair side manner and patient education skills I am extremely impressed and happy to be a new patient here. Dr. Gillette clearly focuses on minimizing the stress and anxiety most folks feel at the dentist's office. Highly recommend.
View On Google
Clear Aligners Can Correct Various Orthodontic Issues, Including:
Misaligned Bites
Aligners can correct underbites, crossbites, overbites, and open bites, improving your bite, speech, and facial features.
Gapped Teeth
If your teeth are spaced out, aligners can help close gaps and make your smile look more mature and professional.
Crowded Teeth
If your teeth do not have enough room in the jaws, aligners can address spacing issues.
Crooked Teeth
Lastly, aligners can correct crooked or rotated teeth, reducing your risk of cavities and other oral health issues.
Because clear aligners can correct a wide range of orthodontic issues, they are highly sought after by patients all over the world. Over the years, more than 6 million patients used aligners from Invisalign alone to achieve straighter teeth.
What If You Have a Tough Case?
If you have a more complex case, perhaps you have been told that you were not a good candidate for Invisalign or other brands of home-delivery aligner systems in the past. Dr. Gillette works with trusted orthodontists to closely assess each case and determine whether it can be corrected with our treatment options.
A Great Option for Patients
Who Have Previously Had Orthodontics
Many individuals who underwent orthodontic treatment with braces or Invisalign in the past find that their teeth start to shift over time. This is especially true for patients who neglect to wear their retainers or patients who never fully completed their treatment.
If you had braces or Invisalign in the past but could benefit from a few minor adjustments, clear aligners may be the right solution.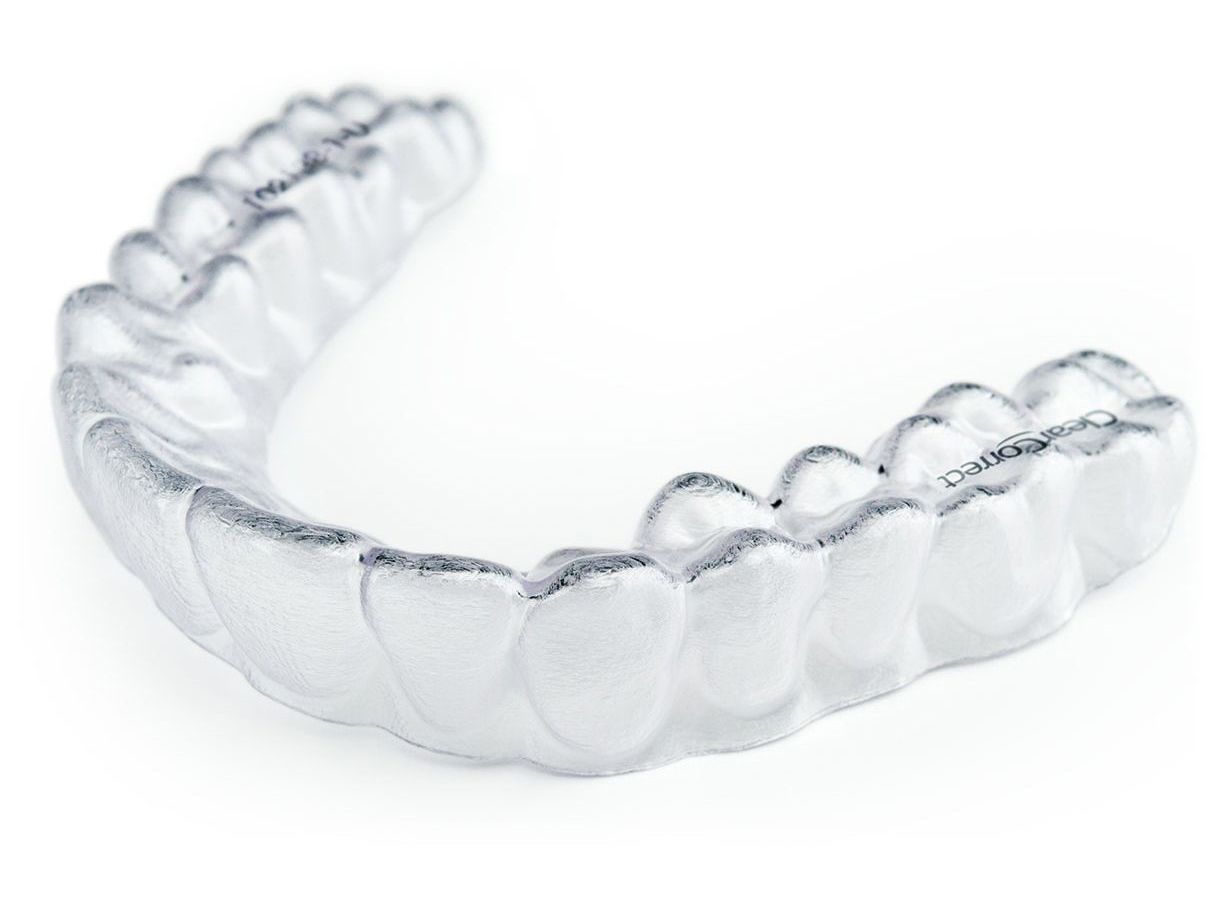 What to Expect from Start to Finish
Consultation
Many patients come to our Arvada office to inquire about braces or Invisalign. During their visit, we are able to share the benefits of clear aligners and the similarities they have with popular brands like Invisalign. We also show candidates how the costs compare to traditional braces and other brands like Invisalign.
Imaging & Impressions
During your orthodontic consultation at our Arvada office, we will take high-quality digital photos of your smile and facial features. We will also take panoramic x-rays and impressions of your mouth to gather the information we need and create a comprehensive orthodontic treatment plan.
Planning
Dr. Gillette works with Dentsply Sirona's cutting-edge SureSmile® system to plan your treatment alongside an orthodontist. Your orthodontic treatment plan will digitally demonstrate how your smile will evolve with each new aligner.
Proposal
If you are happy with your proposed treatment plan, we will begin to fabricate your custom-made aligners. Our trays are made with clear, smooth plastic that is custom-molded to your teeth.
Receiving Aligners
Once you receive your clear aligners, you will begin treatment immediately. You will need to wear your clear aligners for 20 to 22 hours each day, removing them only to eat, brush, and floss. Approximately every two weeks, you will transition to a new set of clear aligners.
Check-Ups
Every six weeks or so, you will return to our Arvada, CO, practice so that we can evaluate your progress.
Other Adjustments
Our practice is equipped with specialized handpieces for interproximal reduction. These tools allow us to carefully and precisely trim teeth as needed to expedite care and achieve the best-looking results.
Final Results
Your teeth will gradually shift into alignment, and those who undergo clear aligner therapy typically reach their desired results in 12 to 18 months.
Been going there for a couple of years now and have always had a good experience. Had a bit of an emergency today and was able to get right in. Very friendly, gental and competent dentist and technicians. Highly recommend!
View On Google
I had a great experience at Ward Road Dental and would highly recommend them for your dental needs. The staff was welcoming and the office was inviting and clean. Nathan, the office manager, was friendly and helped make the scheduling and new client paperwork quick and easy. My hygienist, Lexi, did a great job using modern equipment. Dr. Gillette was really nice and professional. He was not at all rushed during the exam and allowed plenty of time to answer my questions. Overall great experience and I'm happy to have found my new dentist!
View On Google
How to Keep Your Newly Straightened Smile Looking Great
To prevent your teeth from shifting, you will be given a final set of clear aligners or a custom retainer at the conclusion of your treatment. You will need to wear your retainers as prescribed in order to prevent shifting and avoid the need for subsequent treatments. A retainer is a medical device that should be:
- Taken with you when you travel
- Kept in a safe place
- Carried in a hard-shell case
- Cleaned every morning to prevent contamination
At Ward Road Dental, we also provide a wide range of cosmetic dentistry treatments including whitening. Cosmetic dentistry can enhance your newly straightened smile so that you always look and feel your best.
Visit Ward Road Dental & Get Started Today
Are you looking for an orthodontic solution that fits your lifestyle? Clear aligners may be the clear choice. Visit our Arvada, CO, practice to find out if you are a good candidate today. Simply request your appointment online or call us:
(303) 420-4001
But Aren't Clear Aligners Expensive?
Many patients who are unhappy with their smiles forego orthodontic treatment because they are afraid that it will be too expensive. This is often the case with other orthodontists, who tend to offer clear aligners for $5,000 or more.
Patients at our Arvada, CO, dental practice are surprised to find that our clear aligners typically cost about the same as traditional braces. Our treatment typically costs between $2,500 and $3,500. And by choosing our dentist over an orthodontist, you receive the same level of care at a much lower cost.
Another reason we are able to cut costs is our choice of aligners. While brands like Invisalign® tend to be more expensive, our aligners are not.
Covering the Cost of Orthodontics
Although our clear aligners are much more affordable than aligners from an orthodontist or brands like Invisalign, many patients are still concerned about how they will pay for treatment. Our Arvada team understands your concerns, so we happily accept:
All Major Dental Insurance Plans
Many dental insurance plans will cover a portion of the cost of orthodontic care. Our team will help you file the appropriate claims to get the most out of your benefits.
Financing through CareCredit®
You can also cover out-of-pocket costs with the help of a third-party lender like CareCredit. CareCredit offers low-interest financing options and flexible repayment terms.
I love this office. :) Everyone is so kind and welcoming - I feel very comfortable before, during and after procedures. They're just so dang nice! They're also very affordable and accept Care Credit.
View On Google
Dr Gillette and the people who work for him go a step further in making you feel welcome to their office. They are very thorough in answering questions or concerns that you may have. Very nice and warm atmosphere...I give you a 5 Star rating!
View On Google
Christopher J. Gillette, DMD
Dr. Gillette is a board-certified dentist dedicated to upholding the highest level of care. As such, he is affiliated with:
American Academy of General Dentistry
American Dental Association
Colorado Dental Association
Metro Denver Dental Society
American Dental Society of Anesthesiology
To schedule your consultation, contact our Arvada office online or call us at (303) 420-4001.