Traditional dental implants often require preliminary bone grafting and several months of recovery before they can support a denture.
Ward Road Dental in Arvada, CO, offers All-on-4® dental implants, an alternative implant solution that can provide the right candidates with a fast track to a strong, healthy new smile.
Why should I consider All-on-4 dental implants?
All-on-4 dental implants can support a denture on the upper or lower jaw using four dental implants. Traditional dental implants are small titanium posts designed to replace lost tooth roots and support restorations. Each implant is placed vertically, and it usually takes six to eight implants to support a denture. All-on-4 is able to support the denture with fewer implants because the two implants placed toward the back of the jaw are set at angles to maximize surface contact with the bone. In this way, patients who have suffered some jaw atrophy after tooth loss can often undergo treatment without having to receive a bone graft. This configuration also makes it possible to support a denture immediately following placement.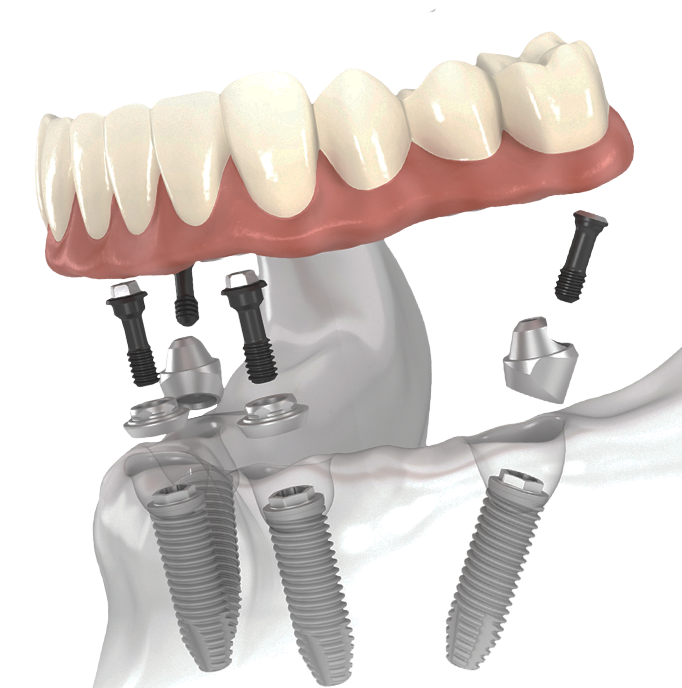 The All-on-4 Treatment Process
On the day of surgery, you will receive local anesthesia to maintain your comfort. You can also choose to receive sedation for further comfort.
Next, the gums are incised to expose the jawbone, and the implants are inserted. After the incisions are sutured closed, leaving the implants exposed above the gumline, we can attach a temporary denture. You can expect oral function to be largely restored at this point - you will be able to speak clearly and chew a variety of foods. Your smile will also look complete and natural.
Over the next four to six months, the implants will become fused to the jawbone. Once Dr. Gillette confirms that this process is complete, we can begin crafting your permanent denture. Once your permanent denture is complete, we can attach it to your implants during your next visit to our office.
If you have been suffering due to a denture that fits improperly, you owe it to yourself to explore All-on-4 or another dental implant treatment.
Benefits of All-on-4 vs. Other Treatment Options
All-on-4 dental implants have several unique benefits that make them an attractive option for many patients:
Treatment usually requires one surgery, while traditional implants require at least two
You will be able to leave our office after surgery with a functional, comfortable smile
You may not need preliminary bone grafting
Treatment costs less than other dental implant procedures