A missing tooth or teeth can make it difficult to chew or speak properly, or to smile with confidence.
Board-certified dentist Christopher Gillette can place and restore dental implants, the ultimate solution for tooth loss.
Why should I consider dental implants from Dr. Gillette at Ward Road Dental serving Denver and Arvada, CO?
"Simply the Best!"
5-Star Google Reviews
If you are lucky enough to experience Dr. Gillett and his amazing staff, you will know it too. Every aspect of his team and execution is top notch. Simply the best!
View On Google
I have been going to this office now for almost 5 years and couldn't be happier. Front desk, hygiene and dentistry are all top notch. Office runs on time, is beautiful and I have and will continue to recommend patients to this office.
View On Google
Why Choose Dr. Gillette
to Provide My Implants?
Dr. Christopher Gillette is a board-certified dentist who can both place your implants and restore them with a custom crown, bridge, or denture. This is a unique benefit of being our patient - most practices must refer the placement or restoration of the implant to an outside practice. However, if you have an especially complex case, Dr. Gillette can coordinate with an area specialist.
Our comprehensive practice provides patients in the greater Denver area a complete dental implant treatment, from planning to the placement of your final restoration. If you are ready to rehabilitate your smile, health, and confidence with dental implants, Dr. Christopher Gillette and the team at Ward Road Dental are here to help you.
A Closer Look at How Dental Implants Work
We Are Here to Rebuild Your Smile
At Ward Road Dental
Dr. Gillette is here to educate you about the state of your oral health, any potential problems that may be on the horizon, and your treatment options. The amount of time you have been suffering with gaps in your smile and the extent of any related damage will guide Dr. Gillette in how to proceed with your unique dental implant treatment.
Dr. Christopher Gillette and his dedicated team of dental professionals are here to help you reach optimal oral health. If dental implants are the best solution, he will take all the time necessary to answer your questions and help you make an informed decision. If another treatment is a better fit, you and Dr. Gillette can explore alternatives. To make the treatment you need affordable, Ward Road Dental accepts all major dental insurance plans as well as CareCredit® financing options.
To learn more about dental implants or to schedule a consultation at out Arvada, CO, office, contact us online or give us a call at:
"They're Just So Dang Nice!"
More 5-Star Google Reviews
What a great office! Where to start? From the well-run and friendly office, to the super kind office manager Nathan, and Dr. Gillette's truly excellent chair side manner and patient education skills I am extremely impressed and happy to be a new patient here. Dr. Gillette clearly focuses on minimizing the stress and anxiety most folks feel at the dentist's office. Highly recommend.
View On Google
I love this office. :) Everyone is so kind and welcoming - I feel very comfortable before, during and after procedures. They're just so dang nice! They're also very affordable and accept Care Credit.
View On Google
Do I Qualify for Dental Implants?
During a consultation at our Arvada, CO, office, our dentist can determine your candidacy for dental implant treatment. He will assess your current state of dental health, review your personal medical history, and answer any questions you may have regarding the dental implant process. Your candidacy will depend on:
Start Rebuilding Your Smile Today
The team at Ward Road Dental in Arvada, CO, can help you achieve a better quality of life through implant dentistry. Dr. Christopher Gillette is a board-certified dentist who performs every step of the implant process, from initial consultation through final restoration placement, under one roof. Other dentists generally have to refer certain stages of implant treatment to specialists. But in the majority of cases, Dr. Gillette personally performs every step of your journey toward a smile that functions properly, feels comfortable, and looks completely natural.
To learn more about dental implants or to schedule an implant consultation at our Arvada, CO, dental office, contact us online or call:
"The Staff Is Marvelous."
5-Star Google Reviews
Dr Gillette and the people who work for him go a step further in making you feel welcome to their office. They are very thorough in answering questions or concerns that you may have. Very nice and warm atmosphere...I give you a 5 Star rating!
View On Google
This is my first ever review of anything... After years of changing dentists for a variety of reasons, we finally found one that we really believe in. The staff is marvelous and Dr. Gillette takes his time to explain everything. We highly recommend this practice!
View On Google
All-on-4®:
Restore an Entire Arch in Less Time
Patients in need of a full-arch denture may be candidates for the expedited All-on-4 implant treatment system. This innovative solution for patients missing an entire arch of teeth uses just four strategically placed titanium dental implants that can support a denture immediately following placement. While the front two implants are placed vertically, the back two implants are placed at angles, maximizing contact with the remaining bone tissue. As a result, All-on-4 implants can function with less bone tissue than traditional implants require, so this solution can often eliminate the need for a bone graft.
As with any full-arch treatment, Dr. Gillette works closely with PDA Dental Lab to produce life-like permanent All-on-4 dentures that look and perform like natural teeth. During your private consultation with our dentist, he can help you determine if All-on-4 or traditional dental implants are the best way to rebuild your bite.
Transforming Smiles
with Dental Implants
This patient achieved improved oral health and an enhanced appearance thanks to custom-crafted implant-supported dentures provided by Dr. Christopher Gillette.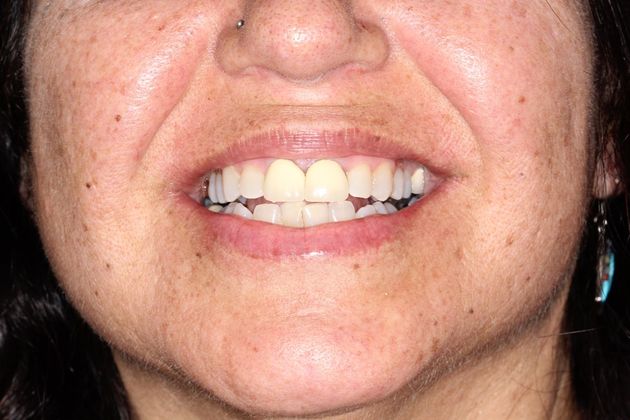 The Latest Technology
For World-Class Results
Dr. Gillette uses the latest technological innovations during each phase of treatment to ensure that your titanium implants provide you with the absolute best benefits. For example, using digital imaging during the planning phase allows our dentist to find the optimal placement positions for your implants. Determining the right locations and angles for these devices minimizes risks while maximizing the likelihood of many decades of healthy smiles. Our entire team, from our office manager to our dentist, is dedicated to helping you experience stellar oral health and a beautiful smile through this landmark treatment.
Have you had enough of dealing with unstable dentures or struggling with the many frustrations that come with tooth loss? Take action today! Schedule an appointment at our Arvada, CO, dentistry practice by contacting us online or calling us at:
"Warm and Welcoming."
5-Star Reviews
Hands down the best dentist and staff around. Everything about the office is warm and welcoming.
View On Google
The Dental Implant Procedure Timeline
From planning to completion, receiving traditional implants requires two minor surgeries over the course of four to six months:
Every phase of treatment can be completed at Ward Road Dental.
Will Insurance Cover Dental Implants?
In the vast majority of cases, insurance does not contribute to the cost of dental implants themselves. However, your insurance plan will likely contribute to the cost of your crown, bridge, or denture, as well as any preparatory procedures such as periodontal therapy or tooth decay treatment you may need.
Fortunately, Dr. Gillette and the staff at Ward Road Dental believe in making this potentially life-changing solution accessible to those who need it the most. If you cannot afford to pay for treatment out-of-pocket, our practice can help you coordinate financing through CareCredit®. This third-party lender has helped many patients afford dental implants and other premium treatments through low-interest and interest-free payment plans. During your visit to our office, our friendly staff will be glad to explain this option and help you determine a way to make dental implants a comfortable fit for your budget. Meanwhile, you can count on us to help you achieve maximum coverage of applicable services through your insurance provider.